Bournemouth midfielder David Brooks revealed he is now free from cancer having completed his treatment on the same day his club secured promotion to the Premier League.
Brooks revealed last October he had been diagnosed with stage two Hodgkin Lymphoma, a cancer that develops in the lymphatic system, part of the body's immune system, and mainly affects young adults in their early 20s or in much older adults over the age of 70.
A statement from Brooks on Tuesday read: "It has been a few months since my last update and in that time I have thankfully completed my cancer treatment.
"I would like to say a huge thank you to all of the incredible medical staff for their amazing work and support throughout the process.
"Last week I met with my specialist having reviewed my final test results. I am delighted to say the treatment was successful and I can now say I have been given the all clear and am now cancer free.
"Those words feel incredible to say and I am so thankful for all your messages and good wishes, these really helped me through the tough times.
"I am so excited to start the journey back to full fitness and continue my football career.
"I am determined to work my hardest over the months ahead and I can't wait to be back out there and playing in front of you on the pitch in the not so distant future.
"Thank you again."
Brooks: It's been a fantastic two weeks
Bournemouth's David Brooks says he is 'buzzing' to see his teammates clinch Premier League promotion after announcing himself cancer-free following months of treatment

Speaking to Sky Sports after Bournemouth's return to the Premier League was confirmed, Brooks said: "I'm absolutely buzzing. It's been a fantastic two weeks for myself. I've got the great news of the diagnosis and I can finally put that to bed.
"Then to watch the boys clinch promotion, it's obviously fantastic. The boys have deserved it all season. It was a bit nervy towards the end and Forest have done really well; they deserve to be in the situation they're in.
"But I'm so happy for the boys, they've managed to cling on and big Kieffer Moore has sent us back to the Premier League.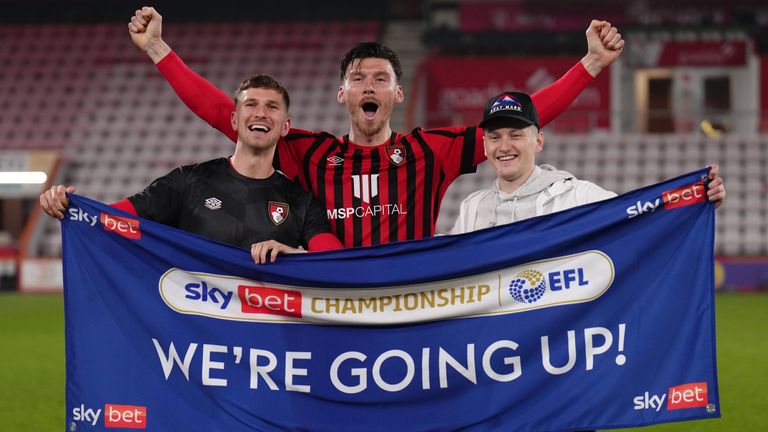 "I'd just like to say, I don't think I have to, but I do apologise for all the messages I've missed. When it first happened and I put it on social media, obviously I wasn't in an ideal place but there were hundreds, maybe thousands of messages. I'd just like to say thank you. I couldn't get through them all. Obviously just delighted.
"It's going to make the run in a lot sweeter over the summer period, to try and get back. Premier League fixtures will be announced and it'll be really nice to look forward to it all. I'm just absolutely buzzing the lads were able to see it over the line."